General information
The Social Incubator Association ("ATSI" or "Association") with registered office in Bucharest, Sector 1, Str. Amzei square no. 10-22, Sc. C, et. 7, apartment 67, room no. 3, registered in the Register of Associations and Foundations under no. 16760/A/2014, Fiscal Registration Code 33177409, e-mail: office@asociatiasocialincubator.org, as the operator, uses cookie technologies within this website ("Website").
An HTTP cookie or cookie is a special text, often encoded, sent by a server to a web browser and then sent back (unmodified) by the web browser. They improve your browsing experience on a website by saving browsing information, so websites can save certain information, remember their preferences, remember certain statistical data to see the audience or how the site is used or to provide relevant content.
There are several types of cookies, respectively "first party" cookies that belong to the owner of this website (ATSI) and "third party" cookies that belong to other third parties and that do not are in any way under the control of ATSI and for which their cookie and privacy policies should be checked.
Also, cookies are divided into session cookies that expire when the web session (of the internet page) is closed, respectively persistent cookies that have a duration longer than the session. The duration of cookies used on the Website is shown in the table below.
Why do we use cookies?
By using cookies, ATSI can ensure the operation of the Website, the fact that users can access the Website's functionalities in optimal and safe conditions (e.g., to save data from the form fields available on the website and access them by ATSI, checking and saving user options regarding cookies, ticking various boxes such as those regarding the privacy policy). ATSI does not normally use cookies for marketing purposes or to perform intrusive profiling or to make automated individual decisions.
In addition to these ATSI first-party cookies, there is the possibility that other cookies may be placed depending on the sections/functionalities accessed (e.g. accessing YouTube videos) as well as other statistical cookies marketing times placed by third parties (i.e., YouTube, Google). These third-party cookies cannot be controlled by ATSI, which is why we encourage you to read the cookie and privacy policies of those third parties.
What cookies does this Website use?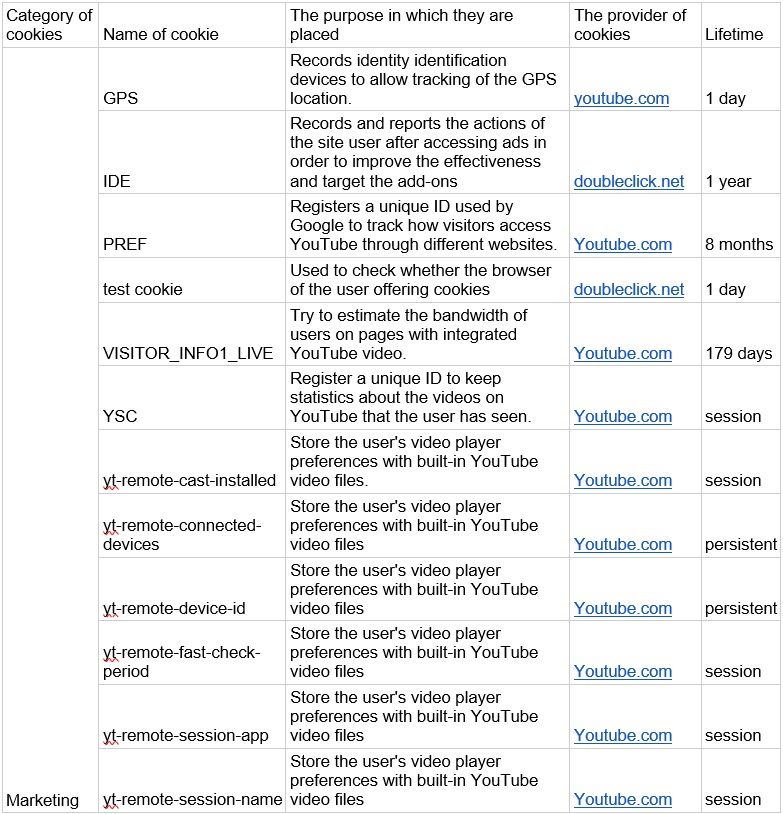 Other details
The cookies used by ATSI on the Website collect the following categories of data that can be used for the purposes indicated above: necessary and functional, statistical and marketing.
The data is processed mainly based on our legitimate interest to ensure the Website functions in optimal and safe conditions, to continuously improve the user experience based on statistical data regarding the use of the Website, respectively to be able to respond to requests on which you address to us through the forms on the website.
In the context of the processing of personal data, beneficiary under the conditions provided by the applicable legislation, of the following rights: access to data, rectification or deletion of data, portability, opposition, the right to file a complaint with the supervisory authority (ANSPDCP).
For more details on how ATSI processes personal data in its activities, as well as on the rights you have under the conditions provided by the applicable legislation, we encourage you to read the Privacy Policy available here
You can change your settings regarding the use of cookies in the settings of the browser you are using, or you can delete cookies when you close the session. For any information regarding the cookies used by ATSI on this Website, data processing and the rights you enjoy according to the law, you can write to us at any time at office@thesocialincubator.ro or at Suvenir Street, no. 9, sector 2, Bucharest.