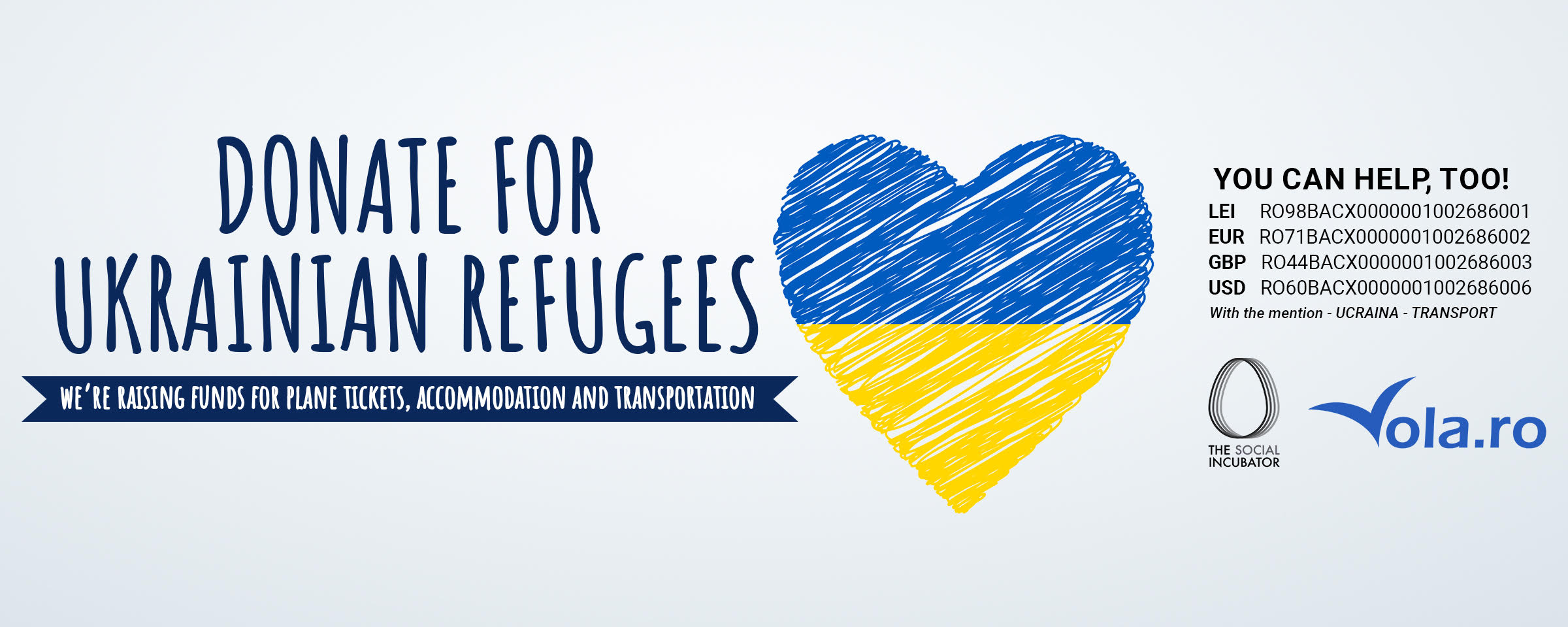 They only got to leave with the hand luggage in which they packed their whole lives into.
To reach their families and friends, they now need their travel ticket.
We support Vola.ro which has already helped over 300 refugees to travel safely.
We are raising money for more travel tickets and accommodation for those who have fled their homes because of the war.
Help us by making a donation with the mention – Transport Ukraine.
Bank details:
ASOCIATIA THE SOCIAL INCUBATOR
CIF 33177409
LEI – RO98BACX0000001002686001
EUR – RO71BACX0000001002686002
GBP – RO44BACX0000001002686003
USD – RO60BACX0000001002686006
Open at Unicredit Bank – Magheru Branch.
Or donate by card
Together with Vola.ro, these funds will be used to facilitate the safe transport of refugees by purchasing tickets for travel by land and air.
Vola.ro's efforts so far have been considerable, but even Vola.ro cannot fully cover these costs.
What Vola.ro has done so far
Relocation of refugees:
Air transport from Iasi, Suceava, Bucharest, Cluj to the requested destinations at no or partial cost (only at their request – some refugees received discounts or paid part of the ticket);
Train/bus transport to the requested destinations, tickets paid by ro;
Organizing free coach transport (with partners) to Poland from Suceava and Bucharest (3 coaches, 2 more to follow).
Other:
ro team received the refugees at the train station/bus station, provided accommodation in Bucharest 1-5 nights until the departure flight to the requested destination;
Also offered catering, sandwiches, fruit and sweets to children directly or through partners, and Covid tests for unvaccinated refugees;
Provided Ukrainian language translator;
Guided those without passports and those who want to relocate to other countries to the Consulate and helped them with information about visas, passport, Covid documents, train/bus schedule etc.
If you represent a company that wants to support the campaign, you can get involved by signing a sponsorship agreement.
Download the contract here.
For more information contact our colleague Andrea Bartha – 0740 406 031, comunicare@asociatiasocialincubator.org